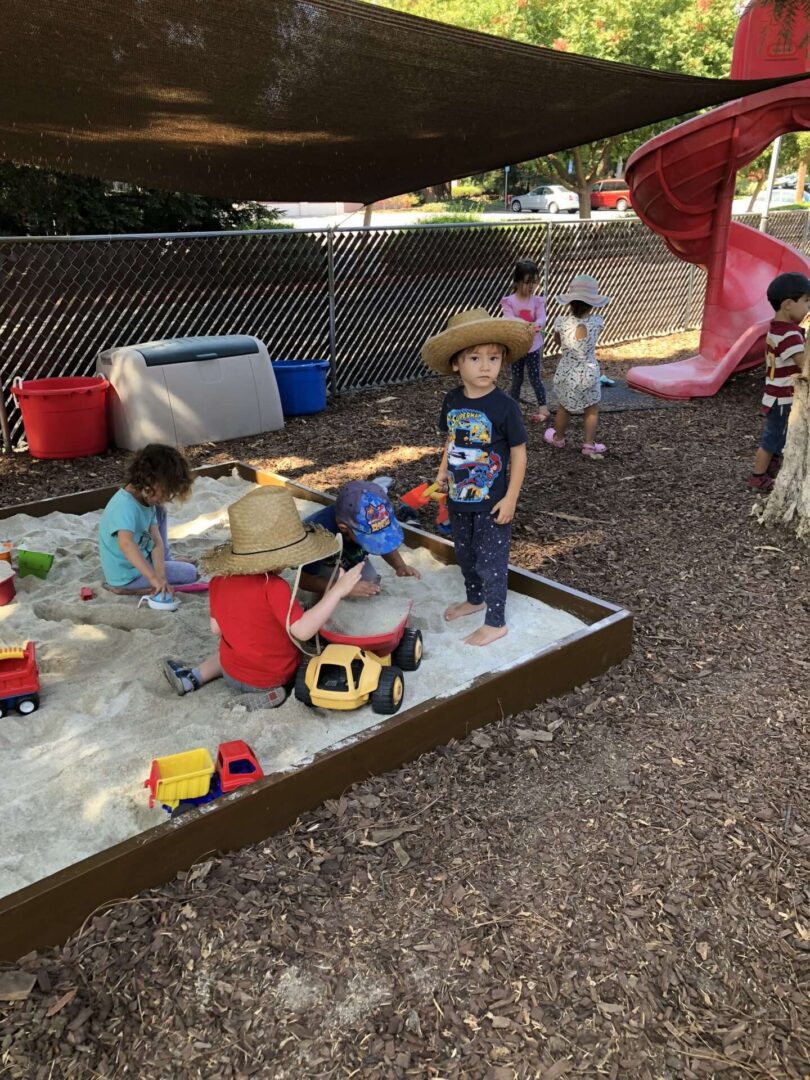 SFC Preschool Testimonials –
What the Parents Have to Say
My daughter's French has improved significantly, she can now communicate with her French-speaking family members. But more importantly, she is also thriving academically!!
My child was taught French by an excellent teacher Nadia who just opened a new French preschool in Saratoga. I visited the French immersion preschool and was impressed by the location, all the toys, and French books and games. I highly recommend the school.
Both of my girls are currently enrolled at SFC. They are thriving academically and socially. Most important of all they are extremely happy. Both of them run to their respective classrooms every single morning!! Nadia and her staff have found a way to teach and discipline children simultaneously while making them feel loved. SFC has welcomed us at the peak of Covid and we never want to leave. SFC is more than just a " great " preschool, it is a tight knit community always willing to help our family! The amount of love and special attention received by my girls at SFC is unparalleled.
This school is the best of the best. First of all, my three-year-olds calls it his happy school. When I take my son to the park next to the school after picking him up daily, there are other kids from his class too, they are so happy to see each other like seeing long-lost friends, they would hug and chase after each other. The teachers are attentive and caring. My son never has a dirty spot from his lunch on his shirt.
During the COVID period, the school organizes a lab goes to the school to collect samples and get their children, siblings and parents tested before returning to the school after every a week long holiday. The director, Nadia, herself is there every time and she tries to keep everyone safe. Nadia is proactive and great!
My six-year-old daughter went to both Challenger and Harker, she loved her schools. But after a week winter camp at the SFC, she asked me to ask if the school has a spot for her to attend daily. When she was two-and-half years old, the SFC was full, so I learnt my lesson and enrolled my son while I was pregnant with him to the school.
The school touches children's and parents' hearts in every way. They do things for the children beyond parents' expectations.
We are very happy to have found this school at the right time.
They are the cleanest daycare i've visited,
Their curriculum is full of super fun activities allowing children to learn and grow without any pressure or anxiety.
The culture is warm, festive and nurturing
But what we love the most about this school, are the teachers , they are "kids fairies" with 20+ years of experience, very attentive, very knowledgeable and super helpful with amazing tips for the parents
We are grateful to all the staff and especially Nadia the director for their continuous hard work and efforts!
Fantastic school with wonderful and caring educators. We do not speak French at home but my daughter has picked up so much of the language. Nadia, the director, even created a special curriculum at the request of some parents to offer special Arabic lessons. Nadia is simply superb; she's thoughtful, sharp, energetic, creative, caring, supportive - and just a wonderful person. The school is a tight knit community and probably the best kept secret in the area. This school is sought after with a long wait list and no need to advertise or focus on Yelp reviews to distinguish itself, so that why there are fewer reviews. However, after reading Mary M.'s ridiculous review about 'not getting a call back fast enough' I decided to leave a review for the algos. As a parent of children who actually attend the school, that review is nauseating and offensive to read given that we just pulled through a pandemic year where my kids have socially and academically thrived thanks to this school. We're good, Mary, thanks.
Saratoga French Cultural Preschool has been wonderful for our son. The director and owner, Nadia, and the teachers in my son's class (Florence, Christine, Khadijah and Anna) take the time to tend to the children, teach and guide them, and all with loads of love. They followed strict protocols including on-site testing during Covid which made us feel comfortable enough to enroll our son during the pandemic. The school offers wonderful activities including cooking, gardening, music, and more. Our son is thriving at SFCP because of the dedicated staff, teachers, and curriculum offered there.
Our two year old is in the Caterpillars classroom at SFC preschool and we absolutely love it! The teachers are so warm and caring and they give me lots of updates on how he is doing- they know him really well! And they do the funnest activities: baking bread, gardening, music, gymnastics, science projects, etc. It's really a fantastic and enriching program. My son is learning so much!
We're so lucky to have such a wonderful preschool in the area. My son has been going there for 3 years and loves going there everyday! On top of being bilingual (English and French), they make learning fun! They provide lots of hands on fun activities for kids to explore. All teachers are loving and caring, a truly amazing school!
This is such a wonderful preschool. My girls (now 3 & 5) have been attending for a year. From day one they never cried (which really surprised me!) because they're in such a nurturing environment and in small classrooms with lots of individual attention. Both have grown up so much under the love and supervision of their teachers and Nadia the director. Even while the school was closed for 3 months for Covid, communication was clear and activities were planned each day. Our fingers are crossed they remain open through the uncertainty that lies ahead because we really lucked out with this school!
"Our fairytale preschool"
When our first child was born, we decided to raise him trilingual, and we were so very lucky to find this Bay Area gem. A Montessori and Waldorf-inspired preschool, with great ratio of pupils and teachers, it embraces kids regardless of whether they speak French and focuses on child-centered, play-based education.
In my opinion, the school offers a balanced curriculum of play and academics, and encourages discovery and fun while providing a great solid framework to help children learn empathy, rules, and respect for people, toys, and their surroundings. The teachers guide and work on each child's dexterity, intellectual abilities, artistic expression, and social skills with love and patience. There is yoga, singing and dancing, outdoors games (when it rains, they just put their little rubber boots on), learning how to make bread, growing vegetables in the school's Lilliputian garden.
We soon became friendly with the teachers and the other parents, and often after pick-up our kids would just continue playing in the Quito Park right next door, while mommies and daddies chat and get to know each other. For us, SFCP has fostered playdates, friendships, and a sense of belonging. Our second child was registered when she was still in the womb 

It's been a summer of change (some planned, others unplanned) for my daughter and when I signed her up for a week of French summer camp with the best intentions, I was concerned about how she would handle yet another change.
Turns out, I needlessly worried.  The teachers are so loving and foster a warm environment.  -That may sound like an overused phrase for daycares and preschools but in this instance, it's spot on.  My daughter asks to go to "French school" in the morning.  They're very kind and patient, especially in light of teaching a second language to a toddler.  My daughter has been happily attending daycare elsewhere, closer to home for over a year but with her enthusiasm for SFC, we're reconsidering her daycare.
If you're used to larger, newer schools, please note that SFC doesn't provide daily reports or apps or cameras to watch the classroom.  They do, however, send the kids home with very hands-on crafts, similar to the kind I grew up making.  The school provides healthy snacks and lovingly heats up lunches as well as wash the container.
My two sons have spent 2 exceptional years at this school. We would have spent 2 more if life events hadn't taken us out of the area.  This school is truly committed to the immersion French program, but most importantly to the love of learning and adapting themselves to each child's individual learning style.  My two boys are very different from one another, so I've witnessed firsthand the tailored approaches given to each one.  The staff is patient, caring and very invested in the development and happiness of each child.  It still saddens me that life took us elsewhere and we had to leave this wonderful school, but I am eternally grateful for the time my children spent there.  I am so excited for all the prospective families wanting to enroll!  You cannot go wrong with your child learning a second language, being and feeling loved and enriched by such a talented community of early childhood educators.
This preschool is a gem. Our kids attended this program part time for 3 years before starting kindergarten. They became fluent in French and we made so many friends with other French speaking parents. There is a true sense of community which is a nice perk. Most importantly, our kids learned everything they needed to be ready for kindergarten, and they loved getting ready for school every day. They especially loved baking cakes which you will rarely find in any other program. To top it all off, this is the most affordable French preschool in the Bay Area *and* it runs the whole day. I hear there is now a very long waiting list, which does not surprise me given the quality of the program. Thank you Nadia and best wishes for the future.
Amazing school! As a French expat family, we wanted for our first daughter a French preschool where she would be able to improve his french. We discovered SFCP when she was 2 years and a half and now that she is at an elementary school, his little sister is attended to the SFCP.
We are so grateful to the team for the great job that they provide. The take care of our kid in a way that, for sure, our children will never forget their teachers.
I feel that is the perfect mix of the French and American way. When our daughter left the school for the Kindergarten, she was ready to handle this challenge so easily.
We are so happy and thankful to find this school.
Can't write enough about SFCP. Our 3 years old girl has spent her first year there, and she loves it very much. Nadia, the head teacher, and her crew are doing a fantastic work. Aside from all the progress our girl is making in learning the french language, we found that a great attention was given to the children, with a good balance of play time and indoor/outdoor group activities. A lot of effort is put towards developing the children behaviour as well as growing and socialising in a group. They organise some extra activities too (walk to the park, visit a ranch, pick up Xmas tree, etc...) which really breaks the routine and gives the children some great experiences. We are also pleased with the good communication and detailed feedback they can provide to the parents.

Highly recommended.
Caring faculty, good programs. My son doesn't speak French at home but still enjoyed his school experience here. Thumbs up!
My 4 year old attends this new school.  The owner, Nadia, is very enthusiastic and eager to teach the kids French in a fun and happy environment.
I drop my daughter off between 8-9am, and she remains there till 5pm.  Whenever I arrive she is occupied and seems to enjoy herself.
It is nice to see a new school with all its energy come to our area.
I and my daughter just love love love this school.
When I went to see the school first time, I was completely smitten by the way school is set up and the way how passionate the director, Nadia was.   Nadia isa very tender, caring and patient educator who has a very clear idea of what kind of education she wants to provide to the kids.
She runs the school like she would care for her own kids.  It is very respectful, nurturing and educational as well as fun!, lots lots lots of fun.   Kids at my daughter's age (2.5) spend all day having fun and picking up toys. ( They seem to pick up toys after each activity, so the school is always spotless clean.  You never see disheveled mess.  )
And most importantly kids have fun!  All the times.  They never aimlessly walk around the classroom, because the teachers take them outside all the times to have fun.
This winter, when the temperature was 49 F outside, my daughter was playing in the school playground and when it's raining, the teachers take them out on a rain walk with a plastic bag on.
Kids always have so much fun that I constantly struggle to pick up my daughter from school.  (She does not want to go home...)
Teachers are all amazing and dedicated.  I am very thankful for their gentle and tender approach and showing them good example of cleaning and being respectful.
This is a school all our whole family loves so much.  Absolutely wonderful preschool.
With language, their French speaking and English speaking kids are 1/2 and 1/2, it seems.  At my daughter's age, they don't really try to teach any French, but my daughter picked up a few phrases like "clean up" "share" "good morning" in French.  The school accommodates both languages very well.
This is the best preschool in the area!! After moving back to the bay area we tried a couple centers but were disappointed until my daughter started SFCP. She is so happy to go to school every day and has so many great things to say when we go home. The teachers are incredible, very sweet and caring to the children and the director is absolutely amazing, very involved and always smiling. Every day we feel the warmth and care from the school and the children always seems happy to be there. I cannot say enough about how wonderful our experience has been since starting at this preschool. I highly recommend it to anyone looking for preschool even if you are not a native French speaker (lots of families there are not) the curriculum and setting remind me of my first years in school back in France and I couldn't be happier for my daughter to be experiencing the same and just seeing how happy she is there makes it all the more wonderful. Merci a toute l'école !!!
Our daughter started attending this wonderful preschool a year and a half ago. They now have two rooms: one for 2-3.5 years old, and a second room for 3.5 - 5yrs old.
The school has access to a nearby garden where they can cultivate plants. They also go out to Quito Park for walks and to enjoy the playground, and inside the school they also have a little playground with bikes and a sandpit. SFC rents two rooms from the Church, and the Church has been very supportive allowing the school to use the church's meeting hall when the weather gets too hot or too cold, so that the children always have somewhere to run or dance when going outdoors is not a sensible option. Although it is located in the same building, SFC is not part of the church.
The school rooms are filled with interesting toys that keep rotating so that the children always have something interesting to explore. The director Nadia, is doing a fantastic job balancing the skills the children are learning: behavior, life skills like sewing or making bread, academic skills like tracing, counting and reading... They also get time to sing, dance and be themselves. The teachers work well together, and are very caring and proactive. We love that the team is a mixture of male and female teachers. We are happy that most teachers have been there since the school opened, so the children feel a sense of continuity.
Our daughter brings her lunch everyday, but the school also offers school meals. The kitchen is next door and the menu is based on seasonal fresh food.
The fact that the school was French immersion wasn't a decisive factor for us: the kids pick up the language quickly enough and it is not a problem, rather a bonus to learn a second language. We chose this school because we could feel its magic and energy, and the school feels like a second family (with a lot of activities :D!).
As a French expatriate I hoped my daughter would have some of the same great experience I had when I went to "L'École Maternelle".  Amazingly – to this day, as a grown man – I remember fondly my preschool teachers. At SFCP I am confident my daughter will too. This preschool has the same vibe and will provide a very "French" way of teaching the kids. My daughter's French has improved significantely and she clearly loves all her teachers, Christine, Nadia, Sylvie, Sandrine, Stephanie, Josh... and they love her back. Nadia the director runs a tight ship and overall it has been a great experience. These days it seems that it is also your only option for a bilingual French-English preschool in the bay area. Thankfully it is of top quality and comes highly recommended.
First to Review*My child was taught French by an excellent teacher Nadia who just opened a new French preschool in our neighborhood.
Saratoga French Cultural Preschool
12850 Saratoga Ave, Saratoga, CA 95070 (inside the Westhope church building on the corner of Cox and Saratoga Ave.)
It's a French immersion preschool open to all levels for children aged 2 years 1/2 to 5 years old.
Open House:
Saturday, Jan. 31, 2015 - 2:00-5:00 p.m.
Merci!
To say I am anxious mother is an understatement. Before I visited SFCP, I had signed up my son with 2 other daycare centers but on the 1st day I could not drop him. When I met Nadia she immediately understood my concerns and came up with a great plan. Even with the plan, on the first day my son cried when I dropped him off. This tears broke my heart. Nadia noticed my state of mind and 10 minutes after I left she sent me a photo of my son smiling. That gesture was so incredibly nice and made me feel that I had made the right choice. My son has been there 2 years and we've sign him up for Kindergarten and I could not be happier. Everyone on staff is incredibly nice, caring and thoughtful. They provide all the kids with a variety of enriching and fun activities, road trips and a great environment. My son loves going there. He feels safe and looks forward to whatever adventure the day will bring. I can't recommend this place enough.